In a smaller space where efficiency is key, a well designed small liquor cabinet can go a long way.  Apartments and small homes often come with less space in their kitchens, dining rooms, and living rooms.  Having furniture that is designed for your situation is very important.  Optimizing the space available can make or break the feeling of an entire room.  Depending on your aesthetic preferences and available resources there may be a different solution to your liquor storing needs.
Classic Small Liquor Cabinet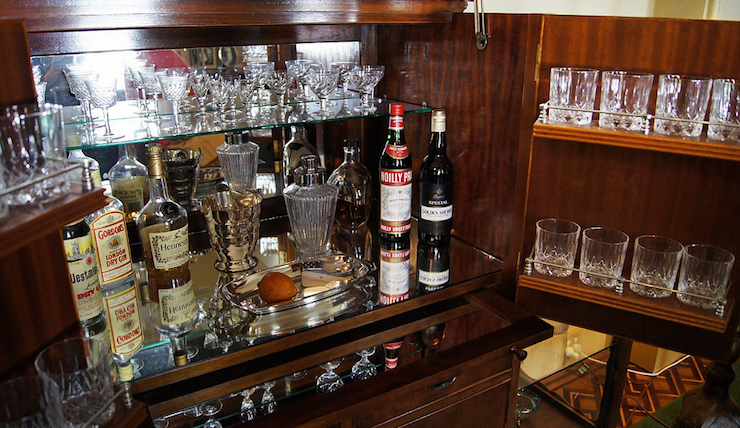 For many cocktail creators a fine design is required to match a finely crafted mixed drink.  One of the best ways to compliment a fine set of crystal glasses and gold plated tumblers is with an antique liquor cabinet.  There are a lot of classic pieces that employ space saving techniques.  From folding counter tops to hidden compartments, you'll feel like James Bond with one of these secretive pieces in your home.  The hard pill to swallow will likely be the price.  If you are crafty you may be able to restore a damaged piece in the hundreds-to-thousand dollar range.  However, fully functional vintage dry bars can start around $3,000 and easily break $10,000.
Resourceful Small Liquor Cabinet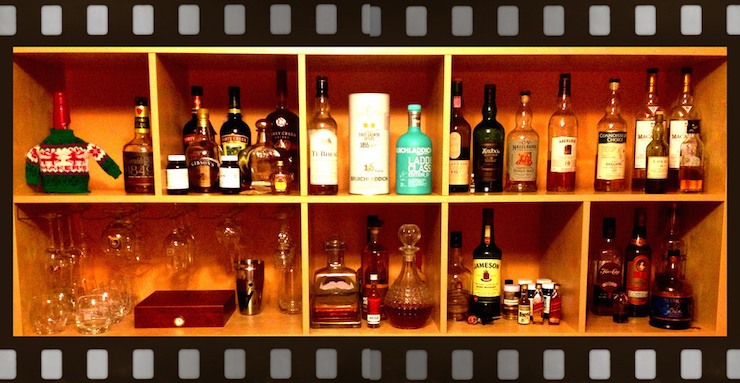 If you're in a pinch and don't have space for any extra furniture, try getting creative with what you have.  We've seen everything from coffee tables doubling as beverage carts to medicine cabinets concealing drink supplies!  Whether you utilize some spare space on a bookshelf or something more outlandish, it's okay to think outside of the box (or cabinet).  The classic globe concealed dry bar is a stylistic masterpiece, and versions can be very expensive.  The concept was said to be inspired by a sneaky hacker at home though.  It's exciting to think of what new creative approaches will catch on, and what the next "classic globe bar" will be.
The SirMixABot Approach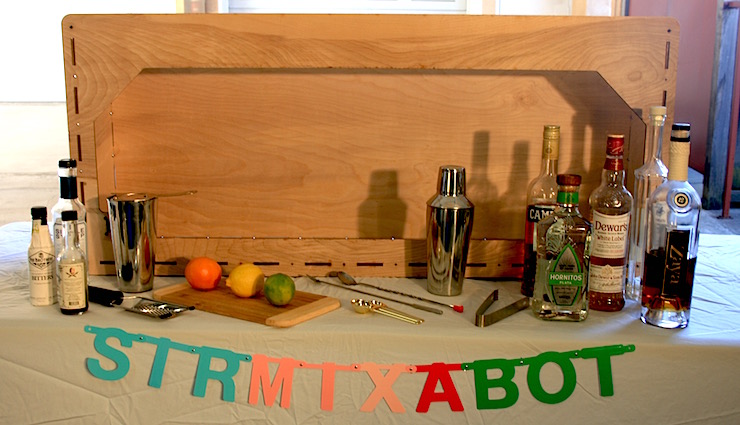 Last, but certainly not least, is the SirMixABot approach.  Aimed to combine the best of both the creative and practical worlds, SMAB is a product you can get your hands on, but also find truly useful.  Having different sizes (i.e. 6 vs 10 drinks) means there are versions for any home or office.  We take an open, sharing approach to our product, and encourage feedback for future add-ons and customization.  We also hate to break the bank, so SirMixABot is designed to be sold at an extremely attainable price, and at a fraction of the cost of other products in the field.  We're all about happy creations and libations, and want to share our product with those living by the same philosophy.