If you're space constrained, one of the best means to store all of your bar equipment is with a wall mounted liquor cabinet. Even if you don't choose Sir Mix A Bot as the best means to store and hang your liquor cabinet, we review some of our favorite designs.
Key Criteria to Consider for your wall mounted liquor cabinet:
While there's a huge array of choices out there, a wall typically only has so much space, and can only support a given load. Here's a few things to keep in mind when choosing the best wall mounted liquor cabinet:
Do your walls have 24" or 16" joist spacing? A cabinet designed for the standard 24" beams might not work with narrow beams. Consider a stud-finder to determine your beam-spacing gaps.

Will you be mounting the bar yourself, or are multiple people needed?

How many bottles and what weight does the hanging mount need to support?

Do you want the default bar to display the bottles, or to keep them behind closed doors?

Is a locking cabinet needed?
Nonetheless – here's our favorite choices for Wall Mounted Liquor Cabinets:
For the Exhibitionist:
For rustic and highly decorated hanging liquor cabinets, we love some of the selections from Etsy. This Double-Barred Rustic Cabinet sticks out for a multiple of reasons.
Its total dimensional length 46.5", enough to fit more than 8 bottle and similar glassware.

It has the ability to store both glassware and bottles up to medium heights

With a variety of stains – it can be built to match almost any other interior furniture or decoration.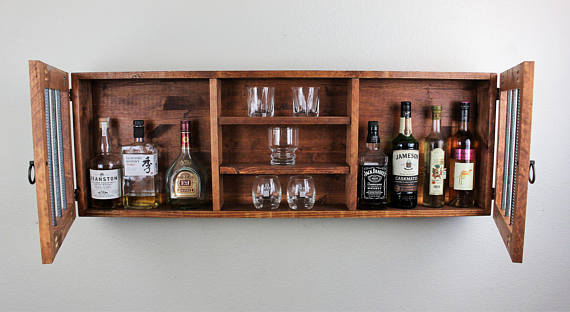 For the apartment dweller and small spaces:
This micro-cabinet has two shelves, and a "floating type" style that seems to hold your finest liquor bottles in mid-air. What's more the fold-out shelf makes the wall mounted liquor cabinet more use-able during drink events as a cup holder or mixing station. This wall mounted liquor cabinet keeps space to a premium.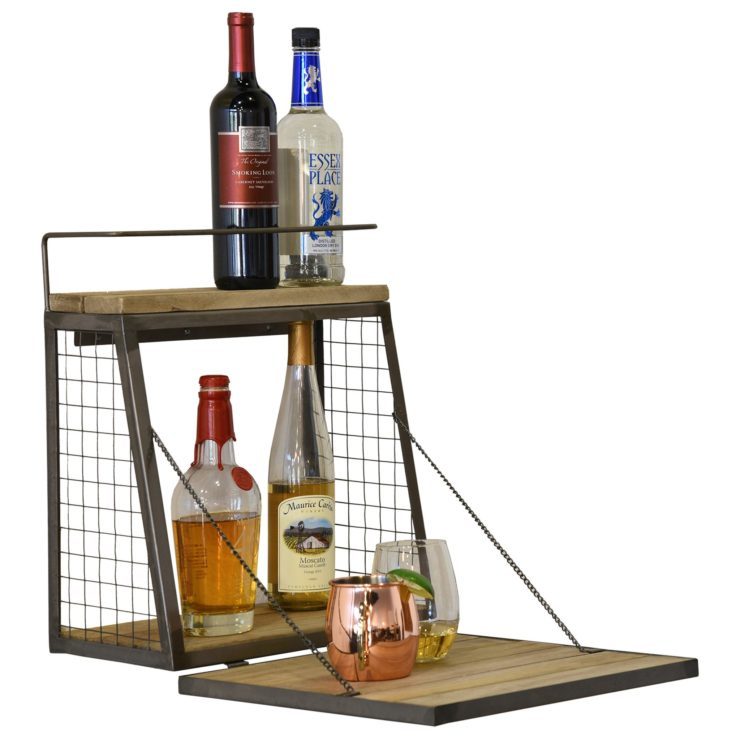 For the Security Expert:
Made by RusticSantaFe, this locking cabinet offers hand welded metal construction combined with wood panels. Capable of holding 10 or more bottles, and with locking capability – its unlikely this cabinet can be easily broken into. Our only concern is the total hanging weight given the steel construction and the capability to hold 10 or more bottles. Expect overall hanging capacity in excess of 80 lbs when filled with liquor.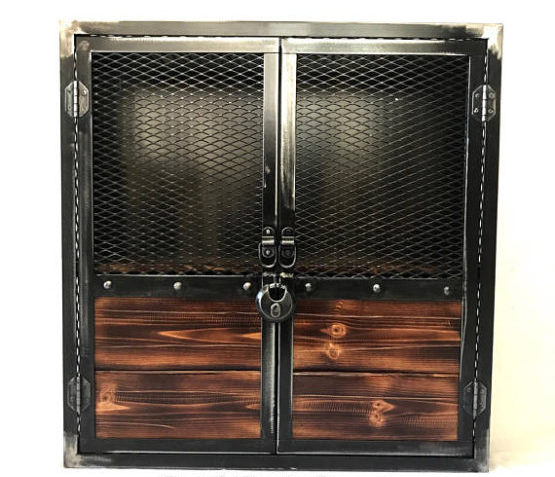 For the electronic Music Fans:
Love liquor and LED lighting? Then this is the hanging cabinet for you. With LED back-lit construction and shelves from 2' to 8' in total length these display cabinets are sure to make your home bar resemble a Vegas night club.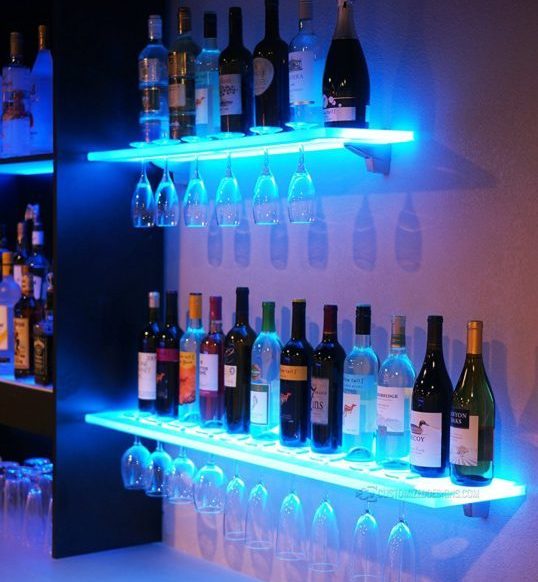 Mix A Bot on the Wall:
Of course – if you want the ability to make drinks automatically AND the ability to hang your liquor cabinet, the Mix a Bot Kit is perfectly suited. With the ability to hold up to 10 Bottles over 100", the largest Mix-a-bot handily out-stores most home cabinets. Additional accessories can enable the bar to store and retain glassware.