When you're undertaking a home bar DIY build there are a lot of basic considerations to follow.  There are also a ton of nuances in what will likely become a trial and error project.  We covered how to build custom bars for homes and offices, but here we'll go over some of the finer details.  There's a lot we can learn from each other, and at SirMixABot we're happy to share our experiences.
Things to DO in your Home Bar DIY Build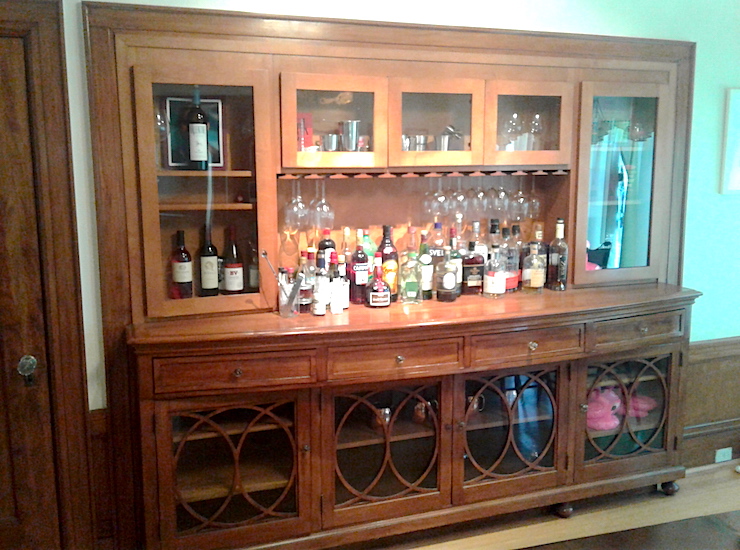 DO work within your comfort zone – Perhaps the most important rule in terms of success and safety is to play to your strengths.  If you're a master carpenter go ahead and knock down some walls.  If you're a hobbyist with limited tools and training, consider sticking to a smaller project like a custom liquor cabinet.  All paths lead to delicious drinks, just make sure you get there safely.
DO use the available materials – Similar to above, work with what you have in terms of materials.  If you're an expert welder and are familiar with steel and scrap metal resources, use those to your advantage.  If you're better with a saw and hammer, stick to wood.  If you don't have a good source of materials, re-purposing furniture from Craigslist and other online sources can be an affordable way to build a foundation.
DO call in favors – Lastly, call in for help.  Expect the unexpected with any bar build, as time and budget are both hard to stick to.  If you have friends or coworkers with technical building skills, do not hesitate to reach out.  Lots of tinkerers have experimented with things from homemade liquor dispensers to full on robotic bars.  It's an area where people are typically willing to lend a helping hand.  And at the end of the day you can repay them with a drink!
Things NOT to Do in your Home Bar DIY Build

DON'T skimp on silly stuff – The will be many opportunities to cut corners, both figuratively and literally.  Do not give in to the temptation when it comes to your basic materials, as small sacrifices up front can lead to big headaches down the road.  First and foremost, don't cheap out on you supplies.  There are a lot of strong, affordable building materials to choose from.  We used MDF for our automatic bartender's frame, and were pleased to find it both cheaper and stronger than other options.  You can always dress up your project with paint, lighting, and more, so don't focus on the aesthetics up front.
DON'T try something new on the final product – We're all about experimenting, but not on the final product.  While you want to play to your strengths and skills, this is clearly a great opportunity to learn new techniques.  For example, we use a lot of our scrap materials to test new laser cutting and engraving techniques.  With a little practice on throwaway parts we were able to dial in the correct settings for the final product.
DON'T settle for mediocrity – This list is filled with cautionary tales, but in the end you still want to wow your audience.  We want you to push your boundaries, but in a safe and logical manner.  Nothing goes better with a creative cocktail than a one-of-a-kind bar to drink it at.  Be creative, ask for help, and don't give up until you have your dream bar.  That has been our approach with SirMixABot and we're proud to stand behind our product.