So you want a decorative means to display your liquor, but don't want to spend a lot of money on those fancy drink holders they have at bars? We examine 3 different styles of drink holders and compare them to find which homemade liquor dispenser might be right for your house or budget.
Components: Home Made Liquor Dispensers
If you've elected to go the the DIY route for making a liquor dispenser, then luckily these devices come in all shapes and sizes to suit your personalized style. Yet, despite the variety, the formula is very repeatable across these devices and you'll need:
A good base material. This piece forms your structure, and for heavy liquors and bottles, you'll need a solid foundation. For woodworkers, there's nice oak, birch, or other wood finishes that can be stained and routed properly. For the more adventurous, while we've observed mild steel and other non-drink proof metals, I would strongly recommend a drink-safe metal (Stainless 304 comes to mind).
Plumbing Supplies consisting of a dispenser valve and piping. Most bottle holders use a simple screw-type valve which dispenses the liquid. As an advantage, you can control the flow rate (just as you would for tap water). Unfortunately, there's no method to meter the exact the quantity of liquor coming out. You'll still need to monitor whether you've poured one shot or one night's worth of headache.
Drink insertion pipe and seal: The last component is the piece that holds the bottle nozzle itself. Most DIYer's simply use some sort of cap adapted inside of the brass, copper, or stainless pipe. While easy, this solution is prone to leak, requires glue sealant, and can typically only fit screw-cap type bottles.
Our Favorite Home Made Liquor Dispensers
Option 1: The Wall Mount Primobar: Available from Etsy here for $280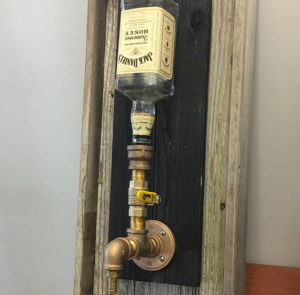 Why we like it: This space-saving design mounts on the wall rather than requiring a huge flat base. Furthermore, the 90 degree valve allows quicker control than a screw type valve which might require multiple turns for opening then closing.
What could go wrong: Larger bottles (handles and larger) could put a lot of stress on the wall mounts, and odd shaped flared bottles have the tendency to collide with the back wall. Furthermore, the overall device width means you've got to have plenty of wall space to show the full liquor cabinet.
Option 2: The Fiddlesticks Dispenser: Available from Etsy for $55 here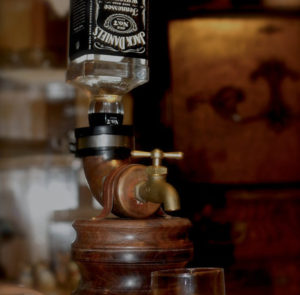 Why we like it: With a simple and unique design, this project is the easiest to execute with the fewest pieces. Furthermore, to solve the problem of multiple "necks" for bottles, the team has chosen to utilize a rubber clamp assisted by a hose clamps to accomodate multiple screw-caps or cork-ended bottles.
What could go wrong: The rubber seal around the bottle is a screw-type belt fastener. Not only would this design topple for larger bottles, it seems likely to leak over long storage periods. More dangerously, over tightening the hose clamp on this home made dispenser has the potential to shatter glass bottle necks.
Option 3: Large Wood base Designs such as Uniq Design Co's: Available from Etsy for $97 here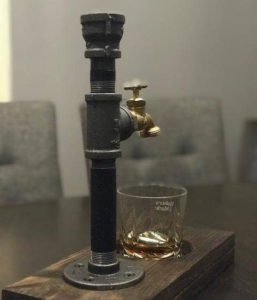 Why we like it: This home-made liquor dispenser is the easiest to make, but also supports the widest array of bottles (notice that nothing constrains the liquor bottle size). Furtermore, its simplistic design means a relatively flat base design can still appear elegant and refined given the right finish or quality wood selection.
What could go wrong: This type of dispenser may have difficult sealing against all types of bottles. You'll need to glue or modify the screw cap design of your liquor bottle to fit into the large upper brass pipe.