The test of time has seen many cocktails come and go. Just like a fine wine there are a select few that seem to get better with age. Some of today's most popular mixed drinks have been around for decades, while others are more recent, yet also qualified, contenders. Let's examine the shortlist of popular cocktails that every SirMixABot owner should have in their arsenal.
The Classic Cocktails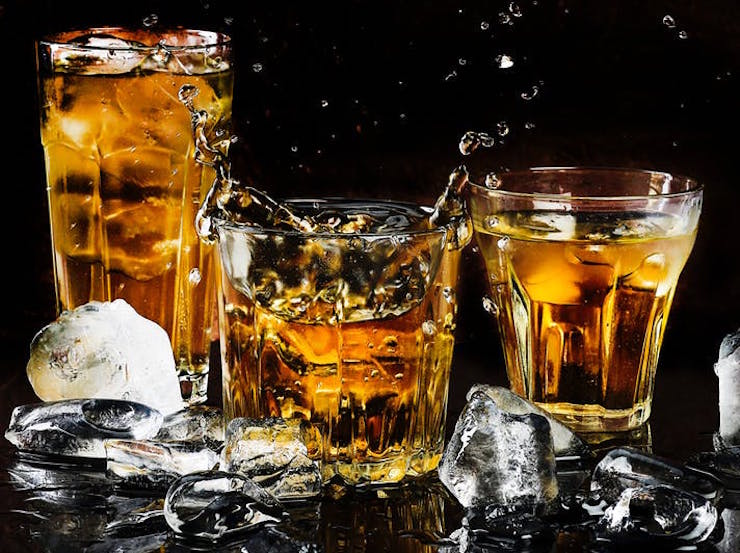 Old Fashioned
It's just wrong to start with anything other than the Old Fashioned. There's a stunning simplicity to the recipe, typically calling for whiskey, ice, sugar, and bitters. Choose your favorite bourbon or rye whiskey, pour over a couple of ice cubes, add a bit of sugar and a few dashes of bitters, and you're there. For added flavor a lemon or even orange peel can be added. However, simplicity is the name of this cocktail's game. Cocktail making 101: don't mess with good whiskey.
Manhattan
Following the form of simplicity is one of the world's most famous cocktails: the Manhattan. It's the starring drink of movies and tv shows for decades on end, and looks just as good in your living room as it does on the silver screen. The classic Manhattan is made with whiskey, sweet vermouth, angostura bitters, and an orange peel. Variations contain maraschino cherries and different types of whiskey. However, this is another rock solid formula you don't need to tinker with.
Gimlet
A drink from the 1800s that is still a staple on bar menus today just has to be good. The Gimlet comes in many forms, but regardless of its variation it deserves a spot on the list of the most popular mixed drinks. The basic formula calls for gin, lime juice, and simple syrup. Combine, chill, and strain these into stemmed cocktail glass of your choice. Garnishing options include a lime or cucumber wheel, and gin can be substituted with vodka.
The Sweeter Side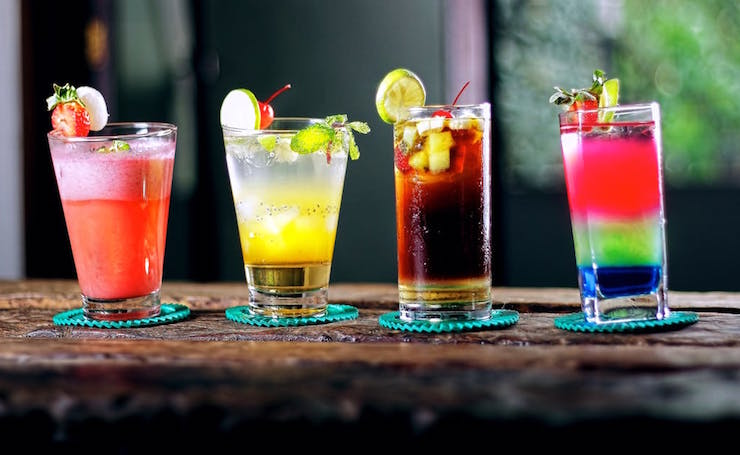 White Russian
Things can escalate quickly when you have a strong drink that essentially tastes like chocolate milk. Although the taste can bring back childhood memories, the punch this cocktail packs is strictly for adults only. The White Russian is made using coffee liqueur (typically Kahlúa), vodka, and heavy cream combined with a few ice cubes. The Black Russian variant calls for the same ingredients sans heavy cream. Either way you'll be feeling like a kid again with one of these in your glass.
Margarita
As one of the most popular mixed drinks in North America there's no way the Margarita cocktail wouldn't make this list. There are a ton of variations, and experimentation is encouraged, but the Margarita foundation rests in tequila, lime juice and an orange liqueur such as Cointreau or triple sec. They can be found in different glasses, but a salted rim and lime wedge are typically customary for this cocktail.
Lemon Drop
You can't have sweet without sugar, and that's exactly what the Lemon Drop calls for. Vodka and lemon juice is combined with ice and strained into a glass containing a sugar cube. The rim can (and to be honest should) also be coated with sugar to add a little more sweetness to the classic Lemon Drop. It's another tasty treat following a simple formula which really doesn't need any modification.
The Newcomers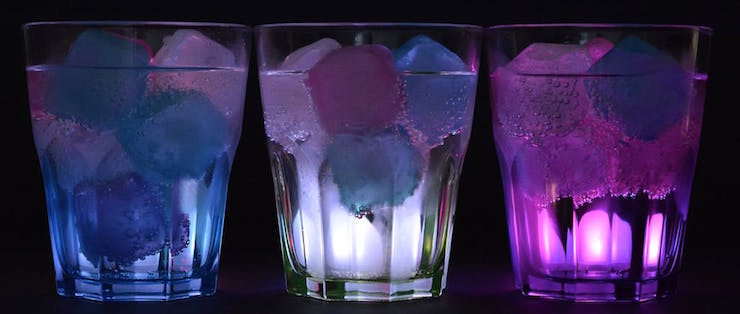 Moscow (or Kentucky) Mule
Although the Mule itself is nothing new, the resurgence and variations of the drink definitely have it feeling like a new kid on the block. Copper mugs everywhere are being filled with vodka, ginger beer, and lime juice to make this delicious drink. The Kentucky Mule calls for bourbon instead of vodka, and other variants exist. For a "light" version bartenders have also been using soju and other less alcoholic spirits.
Summer Martini
The Martini could hold its own on the classic cocktail list, but popular versions of the Summer Martini are also making their name heard. A simple addition to "seasonalize" the drink is to skewer a few blackberries and blueberries with a toothpick and lay across the glass for a fruity flavor. Slightly more tropical is the pineapple Summer Martini. This calls for the addition of lime juice, orange liqueur, and (you guessed it) a pineapple wedge. Regardless of the actual time of year these Summer Martinis are always sure to warm your belly.
Cherry Collins
Another slightly altered version of a classic mixed drink is the Cherry Collins. Substituting the gin and lemon wedge of the Tom Collins with cherry flavored vodka and black cherries yields this delicious drink. The Cherry Collins is a great alternative gaining a lot of traction among today's bartenders. Along with the other most popular mixed drinks on this list it is an excellent, simple recipe to have in your SirMixABot's repertoire.