With the enclosure finalized for the SirMixABot robot bar it is time to customize. Working with durable, easy to handle materials makes this process simple. Whether you choose birch or MDF (medium density fiberboard) for your personal automated bartender, both are easy to work with. After considering stains, varnishes, and a variety of paints, it was decided to use a stain on an MDF enclosure for the first iteration. Documented below are some of the steps taken, as well the final results. Spoiler alert: we're very happy with how this SirMixABot came out!
Choosing the Stain for our Robot Bar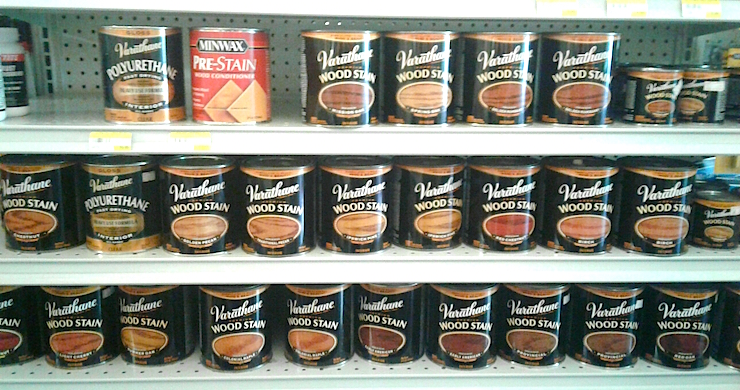 Decisions, decisions. After deciding on the MDF enclosure it's time to select a stain. Although there are no discernible grains or patterns in the wood, a natural stain would still bring out a more natural look and feel. Another factor is visual presence. Instead of a simple walnut, chestnut, or clear finish, we decided to add some color. The redwood stain is beautiful, but a bit darker than we wanted. Fortunately, a light cherry stain looked to be a fine balance, bringing a rich red color, without being too dark from the beginning. It can be applied in multiple coats (getting darker with each layer) and we anticipated 2-3 to achieve the desired finish.
Disassembly and the First Coat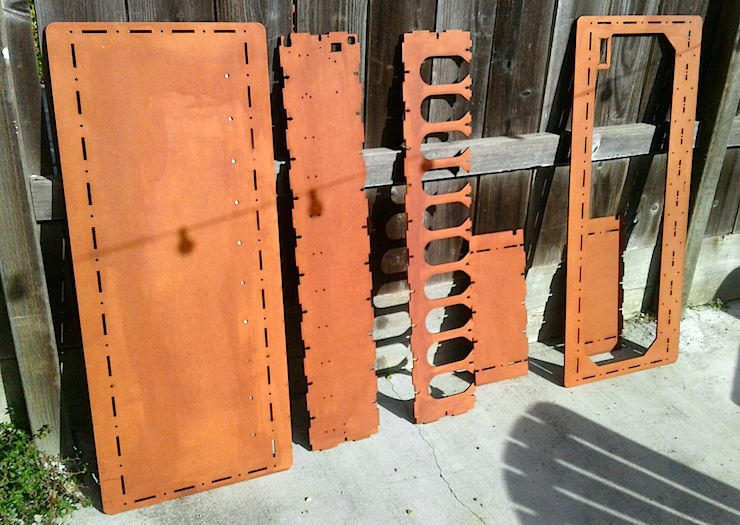 Disassembly and preparation were extremely simple. SirMixABot uses durable, easy to handle components, and only a screwdriver, pliers, and Allen key were necessary to take the pieces apart. Once removed and stored for reassembly, the six pieces of the enclosure were taken aside for staining. The light cherry stain does not require any treatment or preparation, so giving the robotic bar a makeover would be a walk in the park. Set vertically each piece was painted front and back with a single coat using a foam brush. Recommended time between coats is one hour. In a well ventilated space the pieces are safe to the touch within minutes.
The Second Coat and Reassembly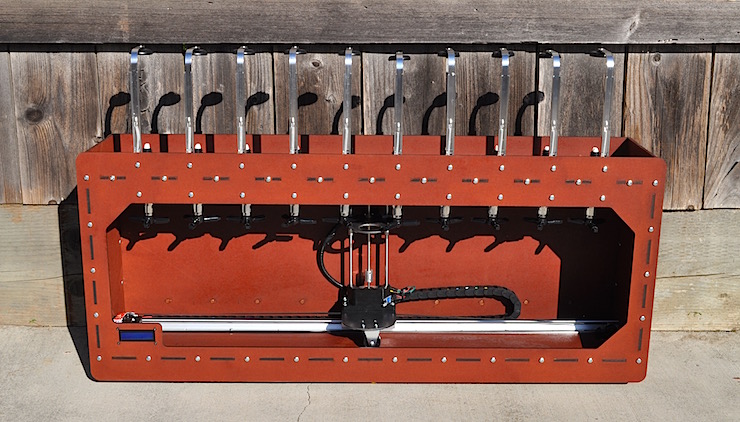 The second coat was applied carefully. It is the final coat, and care is taken to avoid any excess dripping. The foam brush allows a uniform coat throughout, and the results are immediate. The deep red cherry color truly transforms the look of the MDF. It contrasts well with the 3D printed pieces, rail, and bottle holders. To be safe the pieces are left overnight before the robot bar is reassembled. The following day the same hand tools are used to put the automated bartender back together, only taking 20-30 minutes to connect the modular components. With its new cherry finish SirMixABot looks ready for any party, so get your glasses ready!