Drinks are often enjoyed in celebratory fashion, and what better way to celebrate your favorite times of the year with some holiday cocktail recipes.  Regardless of the time of season there is a mixed drink to match the mood.  Whether to warm you up in winter, or cool you down in summer, SirMixABot has your back with creations to match your needs.
Spring Holiday Cocktail Recipes
National Fruit Cocktail Day: Cranberry Orange Crush – Spring can get the year off to a slow start, so it's important to think outside of the box to find holidays.  While the kids are celebrating with a healthy fruit cocktail, the adults can kick back with a Cranberry Orange Crush.  May 13th is the day to make this simple, yet delicious mixed drink.  Equal parts vodka, cranberry juice, and orange juice with a splash of lemon-lime soda will surely add some spring to your step (terrible, terrible pun intended).

Memorial Day: Tequila Sunset – Memorial Day honors those who have made the ultimate sacrifice serving our country.  It also comes near the beginning of summer, and a changing of seasons.  To commemorate our past and say goodbye to our first season we have the Tequila Sunset.  It's a visually stunning drink, and offers a great fruity taste in the month of May.  Tequila, orange (or grapefruit) juice, and grenadine are all that's needed to close out this season.
Summer Holiday Cocktail Recipes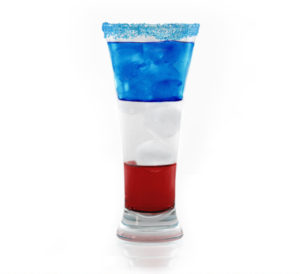 Independence Day: Fourth of July – Yes, the name of this cocktail is Fourth of July.  This drink is more about aesthetics, but doesn't taste half bad either.  To make a red, white, and blue cocktail layering is very important.  That means that pouring liquor precisely and in the correct order is important.  Pour equal parts grenadine, blue Curacao, and cream (or vodka) in that order into a tall glass, and you have an American cocktail ready to go.
Labor Day: Sangria Lemonade – What better way to send off one of the best seasons than to combine two of its best drinks: sangria and lemonade.  This final taste of summer offers the sweet, the smooth, and the nostalgic reminder of warm days passed.   Recipes differ by preference, but in general you'll need lemonade (or lemon juice), white wine, light rum, and fruits of your liking.  Seasonal fruits such as raspberries and oranges will make this more authentic as well.
Fall Holiday Cocktail Recipes
Halloween: Poison Apple Cocktail – You wont know if this mixed drink is a trick or treat until taking your first sip.  It's great for parties, as the ghoulish green color will fit right in with other decorations.  Adding a little dry ice is always a good trick to add a little spooky fog as well.  Full ingredients call for vanilla vodka, orange liqueur, sour apple schnapps, lemon juice, and champagne.  Lining the rim of your glass with green sugar will also cater to the sweet lovers in your crowd.
Thanksgiving: Spiked Hot Apple Cider – No drink says Thanksgiving like hot apple cider, unless you consider gravy a drink, but in that case you need some help.  The recipe is simple, and if you already know how to make apple cider you're 99% of the way there.  Bourbon is the traditional additive, although scotch and rye work nicely too.  Don't forget the cinnamon stick to give your drink some extra appeal.
Winter Holiday Cocktail Recipes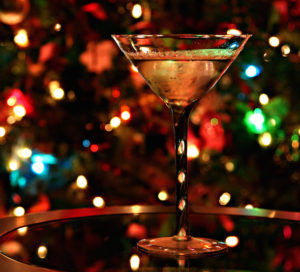 Christmas: Brandy Milk Punch – Thinking "outside the eggnog" is sometimes hard to do around Christmas.  Luckily, this New Orleans cocktail provides the same holiday happiness with a bit of a different style.  Whether you've been naughty or nice, kicking back with some brandy milk punch feels like the best gift.  One part brandy, three parts milk, a few tablespoons of sugar, and a dash of vanilla extract are all that's needed to make this cocktail.  Add a little nutmeg or cinnamon on top for extra holiday flavor.
New Year's Day: Paloma Mimosa – Let's just skip the New Year's Eve recipes.  Chances are you're going to drink everything in sight on December 31st, and the following day will be a struggle.  Thankfully the Paloma Mimosa is here to use up a lot of the alcohol you likely have left around, and turn it into a delicious treat.  A little "hair of the dog" goes a long way, and this is a very good dog.  With tequila, champagne, grapefruit juice, lime juice, and grenadine this mimosa will have you refreshed and back on your feet to start off the new year.